BA, BMus, Adv. Dip. in Integrative Counselling, Advanced Training in Guided Imagery and Music (GIM)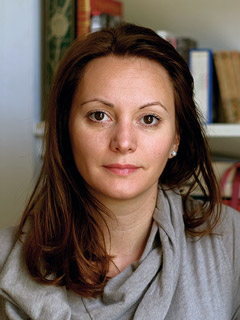 I am a fully qualified and registered member of the BACP and I adhere to the BACP's code of ethics.
I hold a B.A. in Psychology, an Advanced Diploma in Humanistic Integrative Counselling, and I have done an Advanced Training in Guided Imagery and Music (GIM) as well as a B.Mus. in Flute Performance and Composition.
I offer therapy in English, French and Italian.
I have extensive experience both as counsellor and psychotherapist in a wide variety of settings, including my private practice, universities, charities and educational institutions. I work with clients with issues such as depression, anxiety, post-traumatic stress disorder, antenatal and postnatal depression, relationship difficulties, emotional disconnection, low self-esteem, chronic stress and fatigue, bereavement or just those looking for self-exploration.
I offer counselling and psychotherapy tailored to suit your individual needs.
There is no such thing as one-size-fits-all therapy: each patient is a different human being and needs to be considered as a whole. My own version of integrative counselling brings together and integrates elements of different schools, promotes healing, facilitates wholeness and ensures that your mental, physical and emotional levels are brought to their full potential.
I adjust my counselling technique to your individual needs and personal circumstances, using my skills in flexible ways to sort out your issues in a reasonable time.
Music exploration is an in-depth form of psychotherapy carried out with the help of music; it is not a music therapy, it's rather a profound exploration of the patient's inner world through the visionary process activated by listening to music programmes during a counselling session.
The synergy of music, visions and altered state of consciousness brings therapeutic changes in the deep structures of the personality and overcomes emotional and psychological pain.
The value of music exploration is in the depth, speed and relative ease of the work. It enables you to wrestle with deep-seated conflicts more quickly by bringing them to conscious awareness in a manner that you can tolerate; it lowers anxiety and allows you to deal with deeply repressed or highly conflicted material.
Music exploration is extremely effective and dramatically reduce the length of a treatment. Based on my experience, some of my clients, after only six sessions, are successful in developing a better self-awareness, becoming more emotionally balanced and able to manage their own resources.
Music exploration is for everybody: you don't need to play, sing or have a knowledge of classical music. It's also highly suitable and very effective for children and adolescents.
Contact
Please call me on 07531 461666 or email [email protected] if you have any further questions or to arrange your first session.
Rates
Please contact me directly to discuss my rates.