BA (Hons), Adv.Dip Humanistic Integrative Counselling, MBACP (Accred)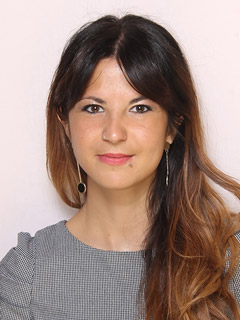 About me
I am Alessandra and I am a bilingual Italian and English Humanistic Integrative Counsellor. I work with individuals and couples over a wide variety of issues. I offer face-to-face sessions, however Skype sessions are also available during periods of travel.
My approach
I believe that every individual has the capacity and deserves to live a fulfilling life. However because of past or present experiences, as well as learnt behaviours, we sometimes find ourselves stuck with unwanted feelings, and with the burning desire of wanting things to be different, but not knowing how to change them.
I am committed to helping my clients reach a place of contentment and well-being, by becoming the best versions of themselves that they can be. I respect and celebrate the uniqueness of each one of my clients in their way of being and seeing the world. I believe that no matter what struggle, 'stuckness' and pain individuals might be experiencing, change is possible and new ways of being, behaving and feeling can be created. Therapy is a powerful tool to achieve this, because it helps remove the obstacles that hinder self-realisation, and it allows the creation of a more authentic sense of self. It is beautiful to witness how, through the work together, clients become more curious about themselves and develop a deeper sense of self-awareness, which in turn leads to self-acceptance and ultimately change.
My approach to therapy is holistic, which means that I invite my clients to explore their emotions and thoughts, as well as their bodily sensations. My work is exploratory, experiential, existential and psychoeducational. As a Humanistic Integrative therapist, I draw from a variety of approaches and techniques (with Gestalt and the Psychodynamic approach being my preferred ones), and from my personal experience. Creativity is a key ingredient of my work because I believe that we all have an intrinsic creative genius, and therapy can allow the artistic juices to flow. When appropriate, I therefore integrate art, drawings, body-work, dreams exploration and other creative techniques in the therapeutic work.
Training and experience
I am a fully qualified Humanistic Integrative Counsellor. I trained at the Gestalt Centre, I completed my Diploma studies at CPPD (Centre for Personal and Professional Development) and I hold a certificate in Working with Couples and Other Relationships (Centre for Psychosexual Health and The Grove).
I have worked with a wide range of clients with different age, sexual orientation, faith, ethnicity and gender.
Areas I work with
The areas I have experience and work with are:
Depression
Anxiety
Eating Disorders
Addictions
Anger and anger management
Self Esteem and Self-Worth
Anger and anger management
Relationship issues
Family issues
Sexuality
Grief, Loss and Bereavement
Sexual Abuse and Physical violence in childhood
Trauma
Work/Life balance issues
Sessions
I offer short term (8 to 10 sessions) and long term therapy with ongoing reviews to monitor progress and discuss potential new areas of work.
If you would like to get in touch for any questions or to schedule our first session, feel free to contact me on 07838340527 or send me an email at [email protected].
I aim to respond within 48 hours and all communication between us will be strictly confidential, and so will be the content of our sessions. I look forward to hearing from you.
Rates
Individual: £70 per 50-minute session
Couples: £100 per 55-minute session
I am a member of the British Association of Counselling and Psychotherapy (BACP) and I work within the BACP Ethical Framework for the Counselling Professions.