Hackney Therapy is home to four brand new, stylish and comfortable therapy rooms. Renovated at the end of 2018, each of the rooms has its own unique look, and the design is contemporary and cool with a distinct East London feel.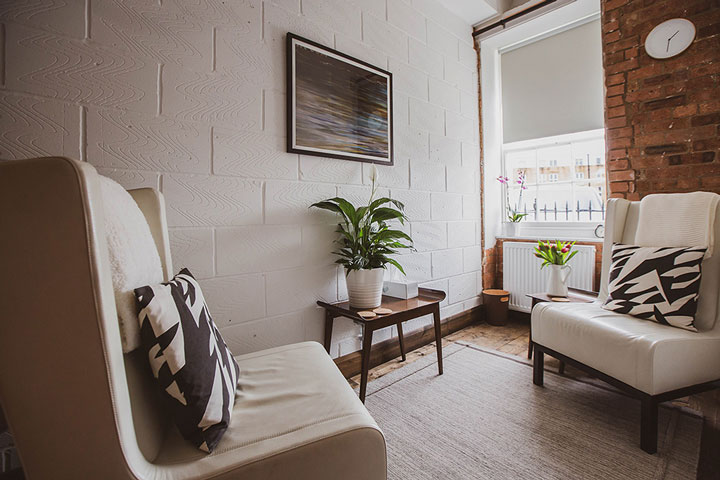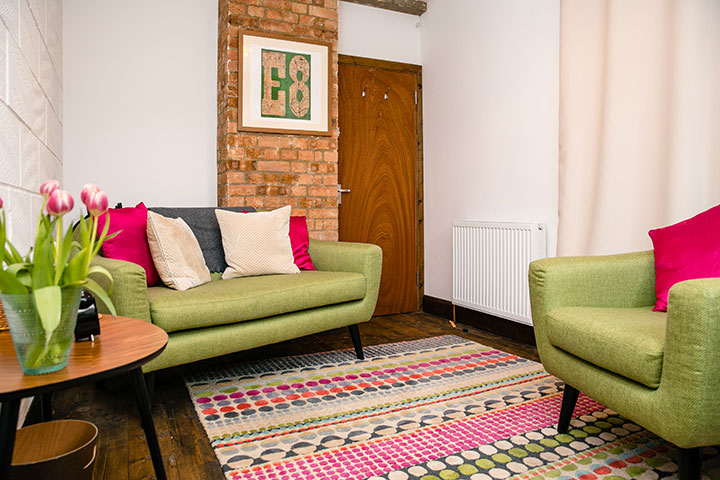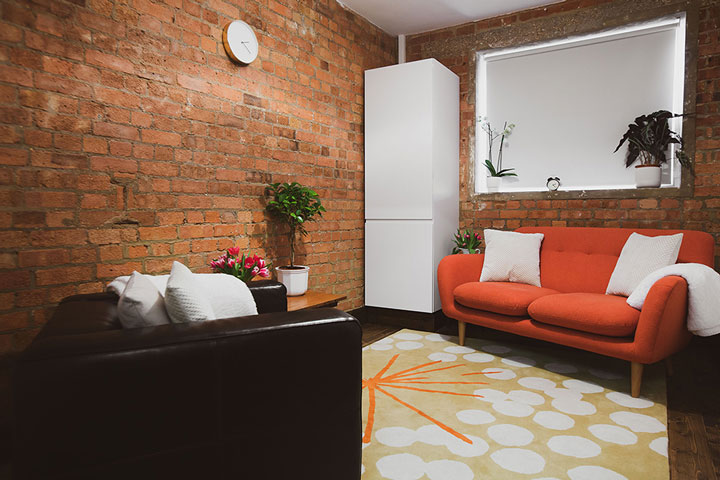 For clients
Our four stylish rooms are sound-insulated to provide a private and confidential setting for your therapy session. Each room has plenty of natural light as well as comfortable seating with varying styles of chairs to suit your needs. The rooms vary in size, allowing for one-to-one sessions, couples counselling and small groups.
We have an intercom system connected to each of the therapy rooms so that you can easily be given access to the premises, and there is a quiet and comfortable waiting area in which you can sit before your session starts.
If you would like help finding a therapist who can work with you on one or more of these issues, please look at the Hackney Therapy profile pages or contact Emma Light on 07967 496172 / [email protected]
For therapists
Our rooms have been designed by therapists for therapists. We know that having quiet, confidential and well-lit rooms is essential for you and your clients, which is why we have made sure that each room is sound-insulated, has natural light and easily adjustable lighting. The seating in each room is extremely comfortable – with extra cushions, throws and blankets – and the varying styles of chairs means you can work with individuals as well as couples or small groups.
We also have a quiet central waiting area, a kitchen (well-stocked with a range of teas and coffee) and bathroom facilities, as well as on site Wi-Fi and a bespoke intercom system for each of the four rooms.
A key aim for us at Hackney Therapy is to support you to grow, fill, and easily manage your practice. We do this through having a highly optimised site – which hosts your own profile page, photo and contact information – as well as an ongoing referral system so that you can connect with clients. In addition, we have an easy to use online room booking system to make managing your practice straight forward.
We make this side of your business smooth-running for you and with our founder, Emma Light on site, and a commitment to a high standard of maintenance of the rooms, we can respond quickly and efficiently to any of your concerns, should they arise.
Our ethos is to support and provide community to each other and there is an emphasis on coming together regularly for social and professional interaction.
If you would like to join our growing community of practitioners working at Hackney Therapy, or for more information on rates and terms, please contact Emma Light on 07967 496172 / [email protected]