BSc Psych, MA DMP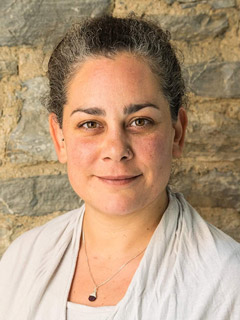 Registered Dance Movement Psychotherapist & ADMP UK Registered Private Practitioner. Membership with UKCP.
I offer psychotherapy sessions to children, adolescents and adults, individually and in groups.
I hold an extensive personal and professional experience in dance as a form of art and self expression, through various trainings which I have completed over the years, since a very young age. This journey has led me to personally experience how, through this creative process, one can find profound support when life presents various challenges.
My interest in human nature and the depths of the internal world, inspired me to complete my first degree in Psychology (Greece, 2005), followed by an MA in Dance & Movement Psychotherapy at Goldsmiths, University of London (2008).
I initially trained to work within the psychodynamic approach and embodied perspectives. I now also integrate other models of practice, such as person- centred, systemic and psychoanalytic approaches. Further trainings in Mindfulness, body-mind awareness practices and other creative arts therapies approaches have also enriched my practice.
Dance Movement Psychotherapy is an evidence-based psychological therapy which offers a space for verbal and non-verbal processes to take place. Through discussion and creative movement explorations, we gain access to a cognitive, physical, emotional, social and spiritual levels, in order to create change.
In the therapy session I support you to connect with your body, your physical experiences and sensations, and your creativity as a way of gaining insight and dive deeper into your personal development journey. We will also use discussion and verbal reflections to support the process. When appropriate, I might suggest the use of background music, a variety of props and art materials.
For more than 10 years now, I have worked in various community, educational and health care settings, in the UK and in Greece. My clinical experience includes work in the NHS and the private sector: Adolescents Mental Health Units, Adults Mental Health centres, Women's centres, Care Homes and therapeutic centres for children with autism, emotional or learning difficulties.
In 2012, I was a visiting lecturer in DMP, at the University of Athens, Greece and I have also delivered various professional development trainings in Greece and in the UK. Currently I work for Jewish Care, in Adults Mental Health and with the elderly experiencing dementias.
People might come to therapy for various challenges and personal reasons or because they wish to connect deeper with themselves. I create a safe and confidential space where my aim is for you to feel held and supported with your process, with respect and integrity.
I am informed by and adhere to the ethical code of practice of the Association for Dance Movement Psychotherapy(ADMP UK) and the UK Council for Psychotherapy (UKCP).
Sessions can be offered in English and/or Greek. No previous experience in movement/ art is necessary.
Contact
For more information or to arrange your first session, please email [email protected] or call on 07443191748.
Rates
I have a sliding scale of £60 to £80 per 50 minute session. Please contact me to discuss your personal circumstances.