Spectrum-qualified Psychotherapist & Counsellor. BA (Hons) Graphic Design. IATE Certificate in Creativity & Imagination. MBACP.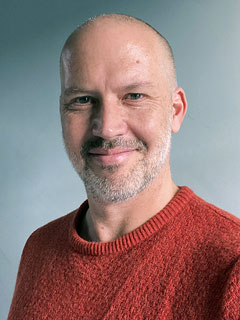 I support people to explore, heal and grow themselves. My psychotherapy work is broad in scope and I regard any subject as a potentially good starting place, whilst my coaching work is a focus on creativity and career. I work with individuals aged sixteen and over, with couples, and with people in other relationships, including familial relationships, friendships and working partnerships.
Psychotherapy
Being carefully listened to is a transformative experience, and paid the right kind of attention, many emotional, psychological and physical manifestations of distress can be revealed as forms of precious communication. Engaging at the right pace and in the appropriate way it's possible to meet, express and integrate our feelings and responses to past experiences, both historical and recent, to find a sense of safety in the present and to form new responses in contemporary life, ones that support continued growth and development. As we bring ourselves up to date with who and how we truly are we uncover choices; we realise it's possible to influence our own experience in meaningful ways that can liberate our focus and energy. This provides space and freedom for vitality, creativity and a general sense of satisfaction within ourselves and in our relationships to others.
I am a qualified and experienced humanistic therapist. I integrate a broad spectrum of theory, practice and experience. My confidential therapy room is a vantage point from which to review behaviours, relationships, thoughts, feelings, dilemmas and all the other things that make up a life. I meet each client with openness and flexibility and offer an alive approach to therapy where I listen and witness afresh each time and create possibilities for new experiences. I pay attention to what has shaped people in the world, to how they live now, and to how they want to reshape themselves going forwards. Crucially, I encourage a collaborative relationship to form, the quality of which is important to the success of the therapy itself.
Coaching
Before finding my way to psychotherapy I trained as a graphic designer at St. Martin's College of Art & Design. I spent many years working in the creative industry, ultimately leading creative teams. Throughout my experience – as a school pupil, an art student, and a professional – I've encountered pernicious notions about creativity; myths that contribute to the hinderance of creative flow in some people, both beginners and those in senior positions. One example is the image of the suffering artist who must toil in isolation in order to arrive at their singular vision. Henri Matisse said, 'creativity takes courage'. I believe this is true – bringing something into the world reveals something very tender about who we are. I also believe that we shouldn't have to summon that courage alone. Just like self esteem, courage is something that any of us can nurture and grow, and getting the right support around us is an important aspect of that process. For me, a crucial build on Matisse's statement is to say that 'creativity takes encouragement'.
I offer private, confidential space at my practice, and I can also travel to your place of work or agree on a neutral meeting place. I can negotiate different lengths of sessions, and different packages of sessions, for individuals as well as for companies and organisations. You might be an independent artist, in the applied creative industries, or you might be a manager, facilitator or nurturer of creative projects and teams. Do get in touch to see how we might work together.
Contact
You can either call, text or email me. I'm happy to respond to questions by email or talk briefly on the telephone about any questions you may have about the process, and we can arrange an initial session to get a taste of working together.
Tel: 07909 915 985
Email: [email protected]
Rates
I vary my fees depending on ability to pay. Please do enquire for details.